INTRODUCTION
A few things had to come together for this project to turn into reality. First off, noticing the precision, strength and weight of SLS (Selective Laser Sintering) plastic. When Andy Rummer first showed me a piece of this material, it immediately became clear to me that it has everything to perform great in rc-helicopters. It is all a matter of proper dimensioning. Secondly, my passion for the 300 size since 13 years and the conviction that 5.000 RPM headspeed is not the solution. Discload matters. Finally, the thought of combining all best practices i have learned and seen in rc-helicopters into one model of this forgotten class – and making it easily accessible to everyone: The Oblivion 300+.
In more detail: The design goal is a 300ish size helicopter that would lock in nicely on pitch and provides full 3D capabilities – all at 2.200 RPM. This results in less mechanical wear, lower noise level and light-footed flight characteristics. You will dare more with the Oblivion than you will with other models. Furthermore, this is a non-commercial project. Which means all drawings and 3D files will be publicly available in STL format. Practically anyone can send them off to Shapeways.com or other SLS services for printing which has a low price tag. Please note that regular 3D printers will most likely not produce parts that will work for this purpose, simply because of weight and tensile strength.
Key design aspects are: 140° heavy duty swashplate for equal travel of each servo. More important in the micro-helicopter domain, since the choice of high-speed servos is pretty limited. Three-point guidance for main shaft to allow for maximum frame strength and least amount of torsion towards the tail boom. 12mm carbon tail boom which essentially eliminates the need for additional boom support. Mono-frame – mounting a swashplate guide? 10 or more parts to build a frame? Not needed, since the frame and all struts are a single piece of plastic. 17 bearings, including thrust bearings for main rotor. Low disc-load of around 1.36kg/m2.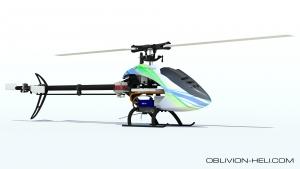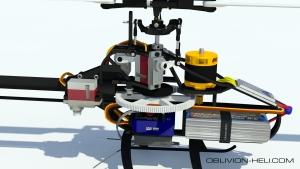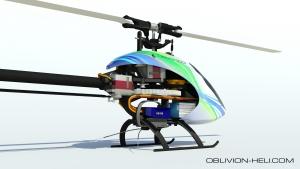 STATUS QUO
A few versions have been released and several builds exist around the globe today. Whenever there is time, we are working on enhancements which eventually become part of another release.
CREDIT
I would like to thank Jonas Wackershauser, Andy Rummer, Dennis Meyer & Ralf Bartikowski for their support and contributions to this project. Thumbs up! 😉
ABOUT ME
My name is Christian Ruck and I have been flying rc-helicopters and planes for quite some time now. I also run www.microheli.net, a website especially for micro helicopters. I am not a team pilot, tied to or biased by any particular manufacturer. The Oblivion is a personal and non-commercial project, essentially about finally building the model I feel is missing in the market.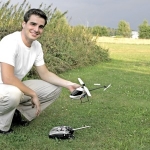 Limitation of liability for internal content
The content of my website has been compiled with meticulous care and to the best of my knowledge. However, I cannot assume any liability for the up-to-dateness, completeness or accuracy of any of the pages.
Pursuant to section 7, para. 1 of the TMG (Telemediengesetz – Tele Media Act by German law), I as service provider am liable for my own content on these pages in accordance with general laws. However, pursuant to sections 8 to 10 of the TMG, I as service providers am not under obligation to monitor external information provided or stored on my website. Once I have become aware of a specific infringement of the law, I will immediately remove the content in question. Any liability concerning this matter can only be assumed from the point in time at which the infringement becomes known to me.
Limitation of liability for external links
My website may contain links to the websites of third parties ("external links"). As the content of these websites is not under my control, I cannot assume any liability for such external content. In all cases, the provider of information of the linked websites is liable for the content and accuracy of the information provided. At the point in time when the links were placed, no infringements of the law were recognizable to me. As soon as an infringement of the law becomes known to me, I will immediately remove the link in question.
General
Model helicopters are not toys. Building and flying the Oblivion requires a good amount of experience. Always consider safety first!
Furthermore, I will not make your helicopter fly. I can not provide instant support on inquiries, please use the forum on www.microheliforum.com for general requests. I will however try and answer requests that reach me via E-Mail as soon as I can. Thanks for understanding.
Christian Ruck, catch me via e-mail on christian@microheli.net or via phone on +491638119811